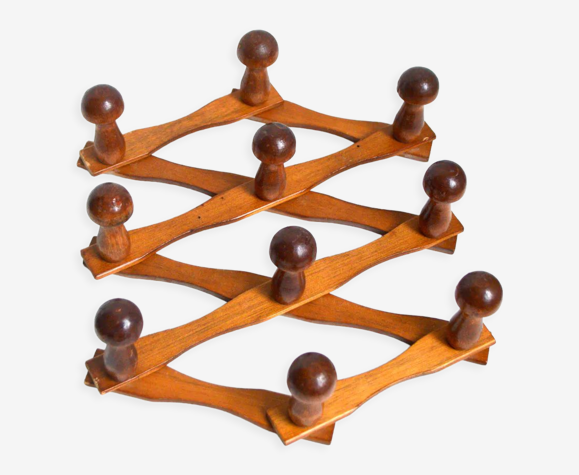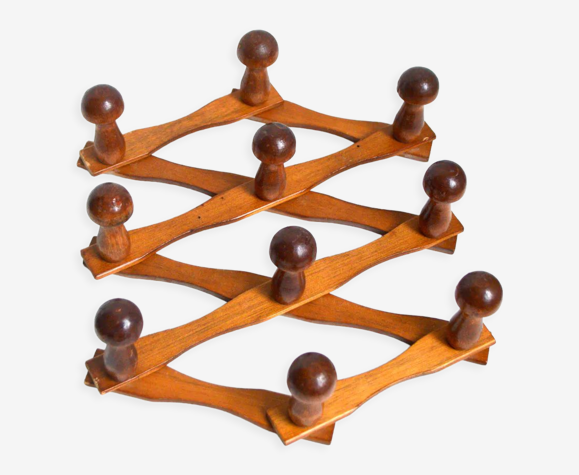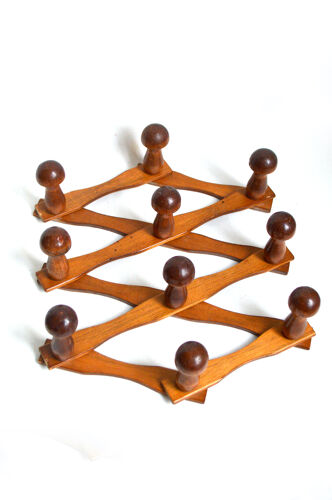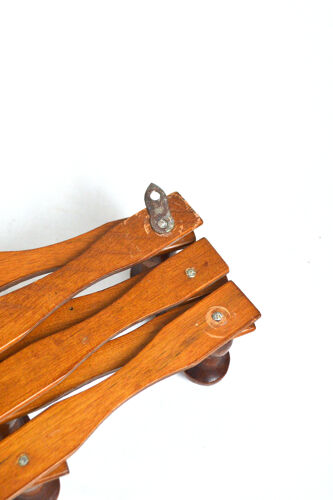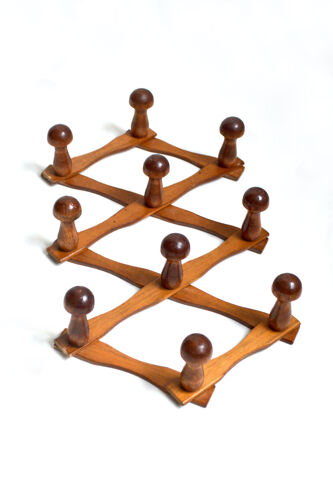 Description
(Show original description)
(Translate)
Old wooden coat rack. News: ◦ material(s): wood. ◦ color(s): brown. ◦ depth of a hook: 7cm. ◦ folded length: 29cm. ◦ maximum usable length deployed: 70cm. Clings to the vertical. Note: old item with wear marks (see photos) This stylish vintage accordion coat rack is a useful storage accessory. It unfolds vertically and has 10 hooks. It will be positioned in an entrance hallway or in a locker room. It will be used to hang a dozen clothes. But it can also be used in a kitchen. We will place many cups or tea towels! We particularly appreciate its warm natural material. Where to place it: this coat rack is so practical that it will be positioned in many rooms of the house: entrance hallway, living room, kitchen, bathroom or bedroom! How to associate it: it will be combined with other wooden objects such as a tripod stool or storage trunks.
Ancien porte-manteaux en bois. Informations: ◦ matière(s): bois. ◦ couleur(s): marron. ◦ profondeur d'une patère: 7cm. ◦ longueur replié: 29cm. ◦ longueur utile maximum déployé: 70cm. S'accroche à la verticale. Remarque: objet ancien portant des marques d'usure (voir photos) Cet élégant porte-manteaux accordéon vintage est un accessoire de rangement utile. Il se déploie à la verticale et possède 10 patères. On le positionnera dans un couloir d'entrée ou dans un vestiaire. Il servira ainsi à suspendre une dizaine de vêtements. Mais il pourra aussi être utilisé dans une cuisine. On y placera ainsi de nombreuses tasses ou torchons ! On apprécie particulièrement sa matière naturelle chaleureuse. Où le placer: ce portemanteau est si pratique qu'il se positionnera dans de nombreuses pièces de la maison: couloir d'entrée, salon, cuisine, salle de bain ou chambre ! Comment l'associer: on le mariera avec d'autres objets en bois comme un tabouret tripode ou des malles de rangement.
Ref. : FH7HP2CT
Professionnal client ? Enjoy exclusive benefits on SelencyPro
Pro Seller
Old wooden coat rack. News: ◦ material(s): wood. ◦ color(s): brown. ◦ depth of a hook:... [Read more]
Dimension : H29 x W29 x D7
Delivery option(s) available:
This item is negotiable, let's see what price you can get !