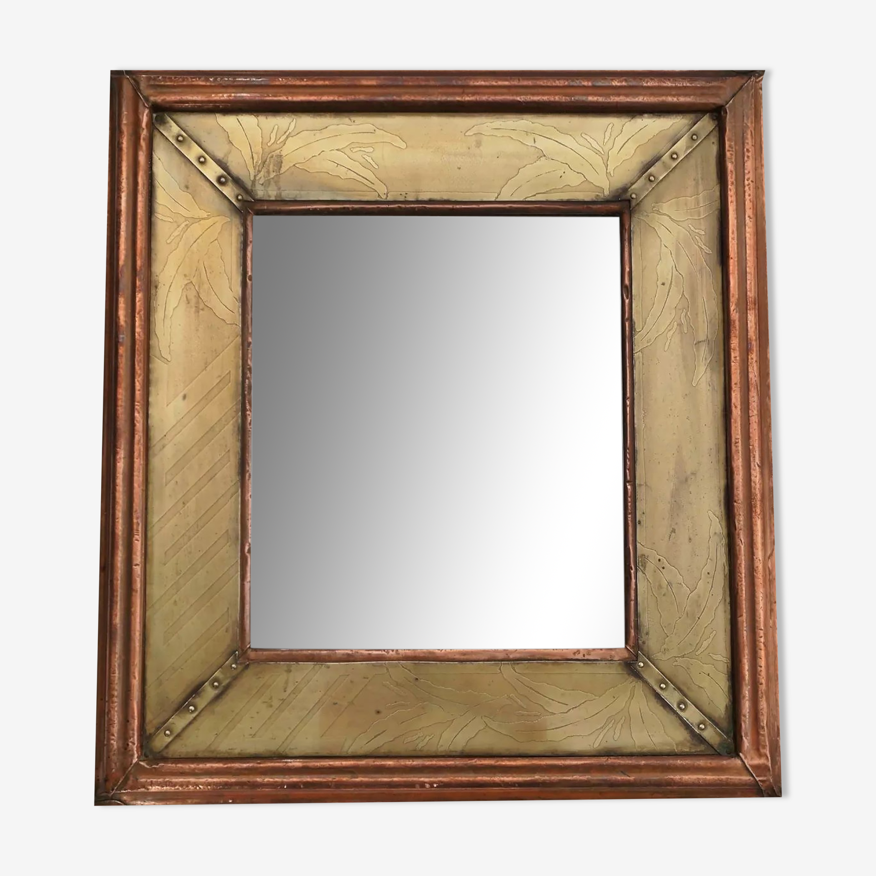 Page 1 of 15
Rodolfo dubarry wall mirror, brass & copper, 1970`s ca, spanish
H49 x W44 x D4

brass

golden
📱
Enjoy €20 off on the app with the code APP20.
Read more
Valid one time, for all orders over €150 and usable only on the Selency mobile application with the code APP20. Non-cumulative, non-exchangeable, non-refundable offer. Unique code to be entered in the application at the time of payment.
Description
This vintage mirror has been gently cleaned while preserving the aged patina. It is ready to hang. Although no signature is present, this mirror has many of the design features of rodolfo dubarry, the attributed designer. The brass is embossed with palm tree & geometric motifs. Along with this and the rivetted copper all demonstrate capable craftmanship. The striking design and elegant proportions make this piece suitable for a range of interiors such as antique, arts & crafts, traditional, hollywood regency, industrial or contemporary. The design consists of a handmade rectangular solid wood frame covered in sheets of copper & brass. The proportions are balanced and the entire piece has good weight. The combination of metals with multiple engravings creates texture & movement. This is accentuated with the internal brass plate making use of various geometric patterns: palm tree leaves, snake skin effect, & geometric lines. In each of the four corners there is a decorative accent, a ribbon like sheet of brass riveted. The stepped external trim is in polished copper. The decorative accent here is on the square corners, each with a riveted copper plate. A final slender trim in copper surrounds the mirror surface. The latter reflects in the mirror creating the illusion of depth. The insert silver mirror is original to the piece and securely held in place behind the frame by a wooden plate. It is fully reflective & bevelled, creating a tridimensional effect when on the wall. The back of the mirror is handmade with great attention to detail, such as the combination of wood, brass & metal sheets holding the joints. This vintage wall mirror is in very good condition for its age. The vintage patina has been preserved. The metal surfaces are in very good condition with rubbing & minor marks as expected for a vintage piece but no loses. The original mirror surface is very reflective and in very good condition, with superficial marks in line with age but no cracks.
Ref. : 79W2TFE7
Dimensions :

H49 x W44 x D4

Color :

golden

Material :

brass

Style :

design
Our suggestion of similar items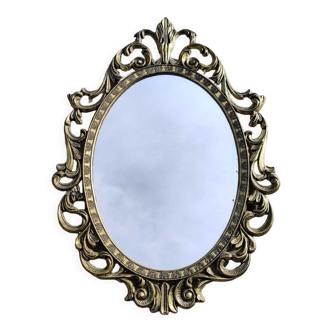 Slide 1 of 7
Return your item within 14 days
Carrefully selected sellers