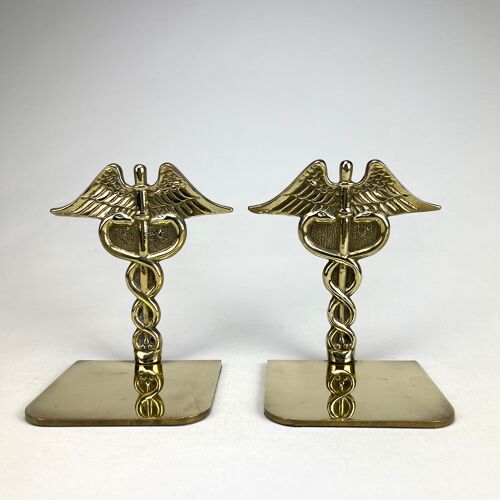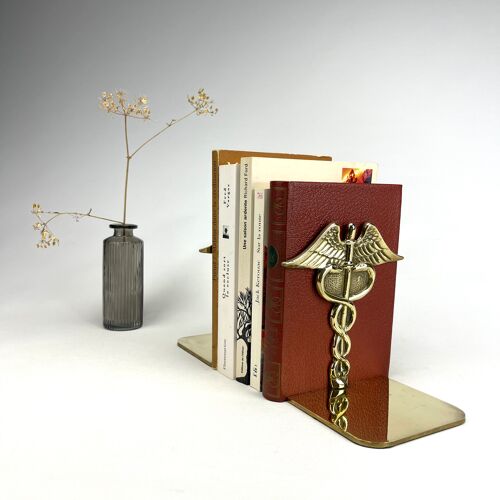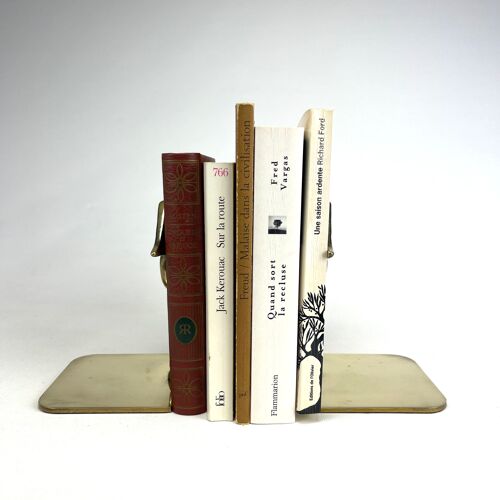 Description
(Show original description)
(Translate)
These bookends that depict the caduceus of hermes are a rare and very pretty find... They are made of brass, very well made. A bit of history... Or rather mythology. According to legend, the young hermes, messenger of the gods, was on mount citheron. Finding himself facing two snakes fighting, he then tried to separate them with his staff. The snakes immediately ceased their struggle and wrapped themselves around the stick. That is why this caduceus is associated with peace. He is often confused with the caduceus of aesculapius, god of medicine and health found in our doctors. In america, on the other hand, the symbol of medicine remains this caduceus of hermes. Which leads us to think that these bookends must have been made especially for someone outside our countries. Both elements are in very good condition. An original gift idea to make or to do, for lovers of books, symbols and the beauty of objects. Height: 15 cm. Caduceus width: 13.5 cm. Caduceus depth: 0.5 cm. Plate: 11 cm / 10 cm.
Ces serre-livres qui figurent le caducée d'hermès sont une rare et très jolie trouvaille... Ils sont en laiton, de très bel facture. Un peu d'histoire... Ou plutôt de mythologie. Selon la légende, le jeune hermès, messager des dieux, se trouvait sur le mont cithéron. Se retrouvant face à deux serpents en train de se battre, il tenta alors de les séparer avec son bâton. Les serpents cessèrent immédiatement leur lutte et s'enroulèrent autour du bâton. C'est pourquoi ce caducée est associé à la paix. Il est souvent confondu avec le caducée d'esculape, dieu de la médecine et de la santé que l'on retrouve chez nos médecins. En amérique en revanche, le symbole de la médecine reste ce caducée d'hermès. Ce qui nous laisse penser que ces serre-livres ont dû être faits spécialement pour quelqu'un hors de nos contrées. Les deux éléments sont en très bel état. Une originale idée de cadeau à se faire ou à faire, pour des amoureux des livres, des symboles et de la beauté des objets. Hauteur: 15 cm. Largeur caducée: 13, 5 cm. Profondeur caducée: 0, 5 cm. Plaque: 11 cm / 10 cm.
Ref. : PHG3Y1JT
Dimension

H15 x W14 x D11

Color

golden

Materials

brass

Style

classic
Professionnal client ? Enjoy exclusive benefits on SelencyPro
Pro Seller
These bookends that depict the caduceus of hermes are a rare and very pretty find... They... [Read more]
Dimension : H15 x W14 x D11
Delivery option(s) available:
This item is negotiable, let's see what price you can get !