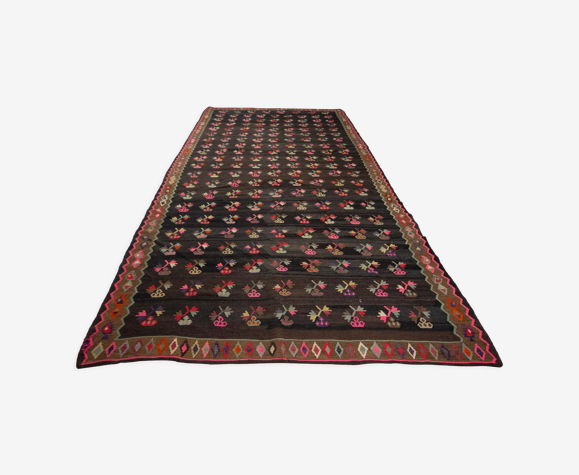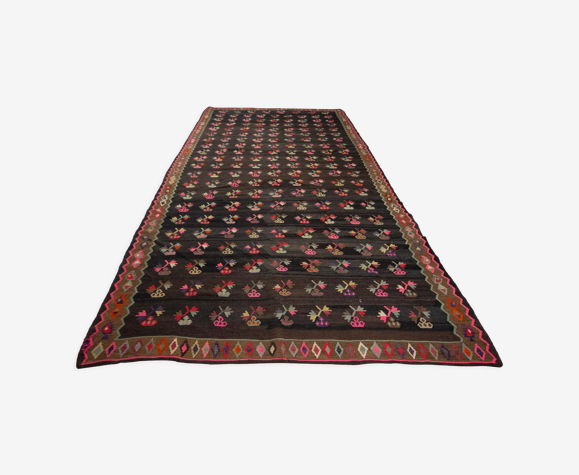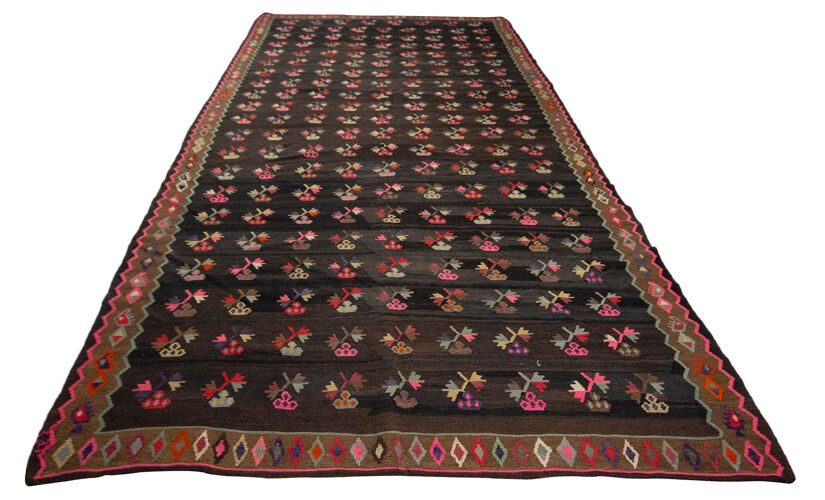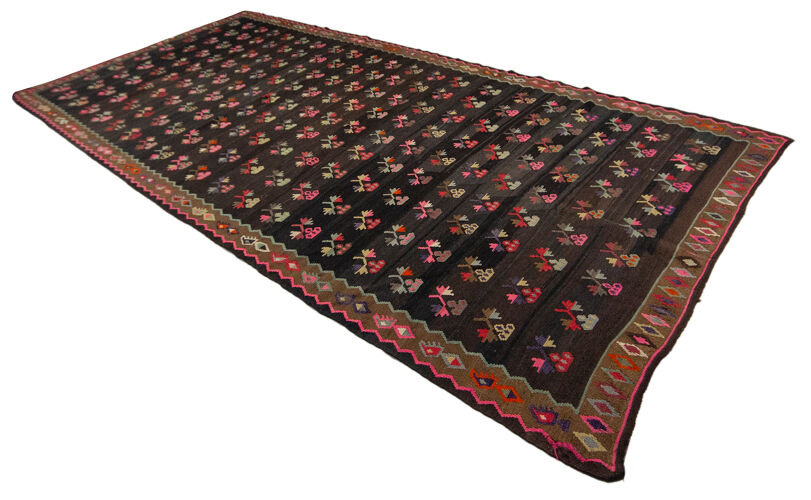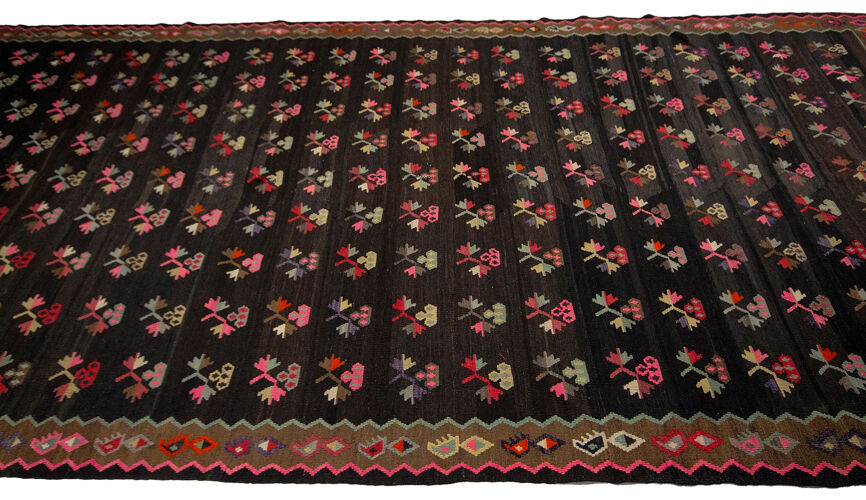 Description
(Show original description)
(Translate)
Turkish hand woven vintage kilim rug. They are made from wool on wool or wool on cotton. It is a unique and natural dye. These kilim rugs are antique and used, we have restored items (all items checked for damage, holes or wear, then we wash natural shampoo and repair true to original; means using same color and same quality of wool, last step make a special ironing to take a smooth shape) we give the guarantee and the certificate that this article is unique and handmade. Care: only dry cleaning. Please note that colors may vary slightly on different computer screens.details of this unique kilim. Origin: handwoven from central anatolia in turkey. 405x195 cm. Age: is around 80-90 years old. Condition: is good. Professionally washed and ready to enjoy in your happy home. My rugs are carefully hand selected from vintage turkish rugs from different regions of turkey. These are all hand spun wool, vegetable dyes from vintage rugs. The kilims are woven by hand. They are slightly faded due to years of wear. Due to the handmade vintage nature of the rugs, all vintage rugs may show minor imperfections, repairs or signs of wear. Your questions are always welcome at my place. I'll be happy to answer them, myk-1196.
Tapis kilim vintage tissé à la main turc. Ils sont fabriqués à partir de laine sur laine ou de laine sur coton. C'est un colorant unique et naturel. Ces tapis kilim sont anciens et utilisés, nous avons restauré des articles (tous les articles vérifiés pour les dommages, les trous ou l'usure, puis nous lavons le shampooing naturel et réparons fidèle à l'original; signifie en utilisant la même couleur et la même qualité de laine, dernière étape faire un repassage spécial pour prendre une forme lisse) nous donnons la garantie et le certificat que cet article est unique et fait à la main. Soins: uniquement le nettoyage à sec. Veuillez noter que les couleurs peuvent varier légèrement sur différents écrans d'ordinateur.détails de ce kilim unique. Origine: tissé à la main de l'anatolie centrale en turquie. 405x195 cm. Âge: est d'environ 80-90 ans. Condition: est bon. Professionnellement lavé et prêt à profiter dans votre maison heureuse. Mes tapis sont soigneusement sélectionnés à la main parmi les tapis turcs vintage de différentes régions de turquie. Ce sont tous de la laine filée à la main, des teintures végétales de tapis vintage. Les kilims sont tissés à la main. Ils sont légèrement délavés en raison d'années d'usure. En raison de la nature vintage faite à la main des tapis, tous les tapis vintage peuvent présenter des imperfections mineures, des réparations ou des signes d'usure. Vos questions sont toujours les bienvenues chez moi. Je serai heureux d'y répondre, myk-1196.
Ref. : KCQ1D1FD
Dimension

H195 x W405

Color

brown

Materials

wool/cotton

Style

ethnic
Turkish hand woven vintage kilim rug. They are made from wool on wool or wool on cotton. It... [Read more]
Dimension : H195 x W405
Delivery option(s) available:
This item is negotiable, let's see what price you can get !