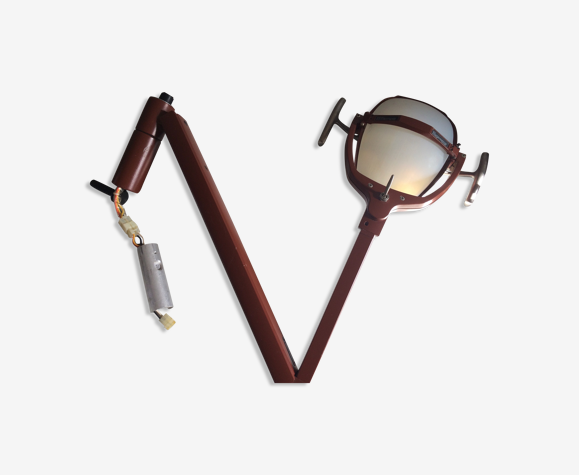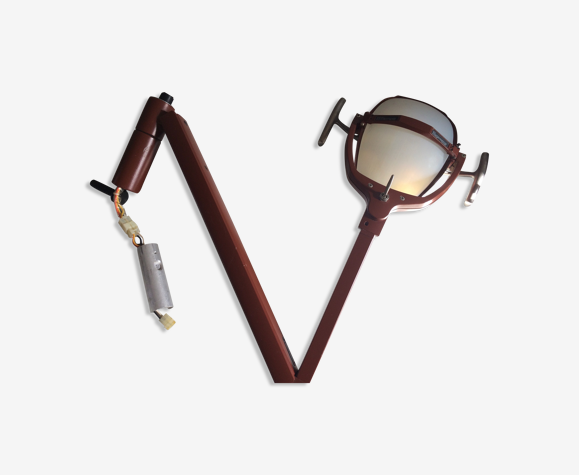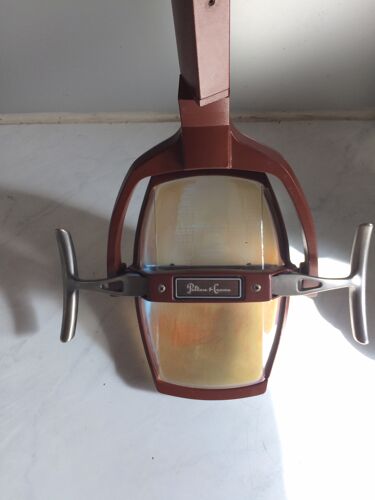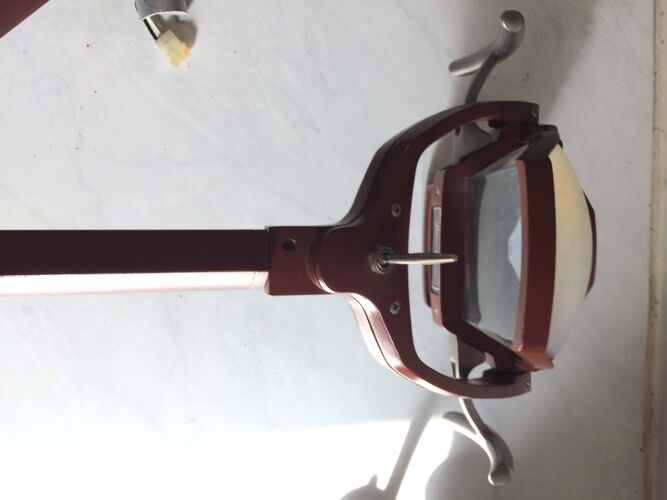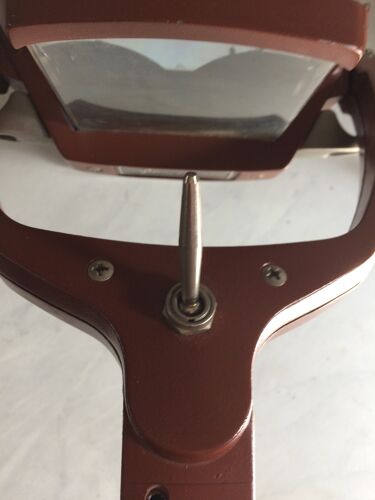 Description
(Show original description)
(Translate)
Rare wall lamp of dental practice of the manufacturers pelton& crane usa model lft II with an articulated arm in solid metal mounted on ball joints and a reflector in frosted glass with 2 wrists in brushed alu, industrial design of the 80s. This wall lamp has a dimmer and a brushed aluminum interswitch, the head is rotatable 360 ° and the arm can be fully unfolded. A metal jaw takes the frosted glass reflector as well as the transparent plastic protection to enclose it in the arm. A black metal rod can serve as a hanging system to jaws or be directly embedded in the wall. The appplique is chocolate in color with brushed metal interruptors and a black plastic dimmer. Excellent state of conservation of the whole, the paintings have kept all their brilliance. All the brushed aluminum parts as well as the frosted glass are in perfect condition. The protective plastic has a small scratch on an angle that is very inconspicuous (see photo 12) Attention: this luminaire works in 110volts and must therefore be connected to a 220v converter to work in france.
Rare applique murale de cabinet dentaire des fabricants pelton&crane usa modèle lft II avec un bras articulé en métal plein monté sur des rotules et un réflecteur en verre dépolis avec 2 poignets en alu brossé, design industriel des années 80. Cette applique murale posséde un variateur de luminosité ainsi qu'un intérupteur en alu brossé, la tête est pivotable sur 360° et le bras peut être entièrement déplié. Une machoire métallique vient prendre le réflecteur en verre dépolis ainsi que la protection en plastique transparent pour l'enserrer dans le bras. Une tige en métal noir peut servir comme système d'accroche a des machoires ou être directement encastrée dans le mur. L'appplique est de couleur chocolat avec des intérupteurs en métal brossé et un variateur d'intensité en plastique noir. Excellent état de conservation de l'ensemble, les peintures ont gardé tout leur éclat. Toutes les parties en alu brossé ainsi que le verre dépolis sont en parfait état. Le plastique de protection a une petite rayure sur un angle qui est trés peu visible (voir photo 12) Attention: ce luminaire fonctionne en 110volts et doit donc être branché a un convertisseur 220v pour fonctionner en france.
Ref. : HRXR5319
Dimension

H17 x W32 x D100

Color

brown

Materials

Style
Pro Seller
Rare wall lamp of dental practice of the manufacturers pelton& crane usa model lft II with... [Read more]
Dimension : H17 x W32 x D100
Delivery option(s) available:
Unlike new items, second hand items don't lose their value. You can resell this item at the same price.