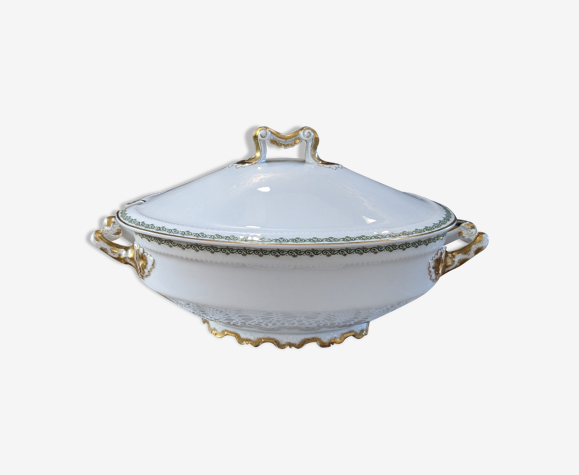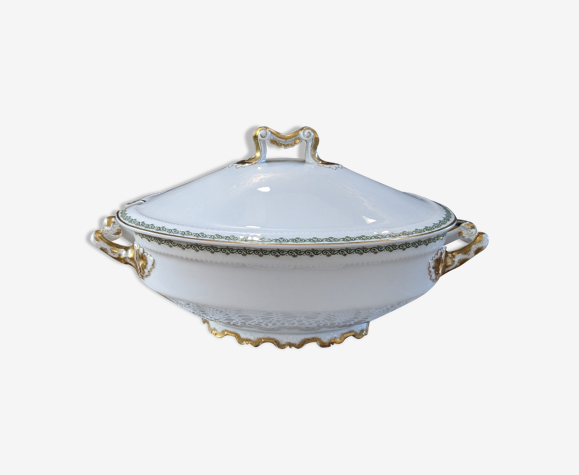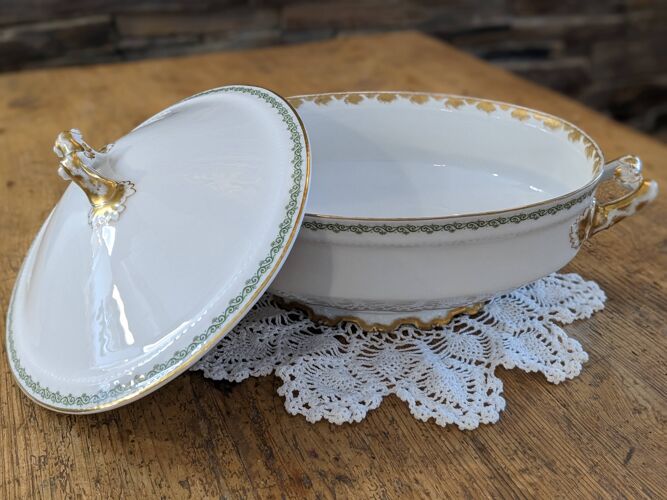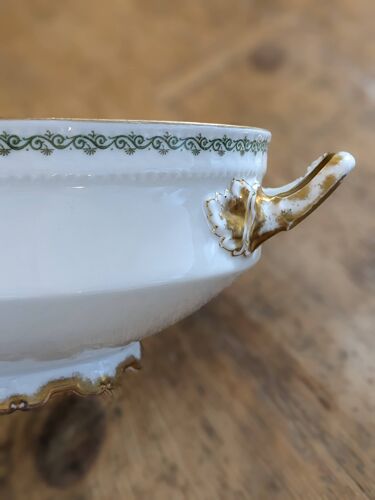 Description
(Show original description)
(Translate)
Pretty oval shaped tureen with its lid, vintage limoges porcelain from haviland. Notice to vintage lovers this beautiful piece will sublimate your family meals, or to divert into a salad bowl for your fruits & vegetables. For creatives, a nice pot for your plants (banzai...), dried flowers... 🫶 Collection of yesteryear in perfect condition. A micro glow see last photo. An elegance and impeccable chic with a sleek and sophisticated look. This collection is timeless with a contemporary style. White with a gold net deposited by hand by the artisans of the manufacture with a pretty green decoration in outline. Just sublime 😍 Size: length 28cms. Width 22cms. Height 11cms. Porcelain. Magnificent bourgeois tureen of the house haviland limoges france since 1842. Porcelain house synonymous with the art of french luxury. Real know-how, the finishes and artistic works of decoration are made by hand in a traditional way. Sold new price 807 € / flat. Possibility to complete and make a service, flat plates, hollow plates, ravier, saucière, round dish from the same collection of available, see my other ads 🤗.
Jolie soupière forme ovale avec son couvercle, vintage en porcelaine de limoges de la maison haviland. Avis aux amateurs de vintage cette belle pièce sublimera vos repas en famille, où à détourner en saladier pour vos fruits & légumes. Pour les créatifs, un joli pot pour vos plantes (banzaï...), fleurs séchées... 🫶 Collection d'antan en parfait état. Un micro éclat voir dernière photo. Une élégance et d'un chic irréprochable au look épuré et sophistiqué. Cette collection est intemporelle au style contemporain. Blanc avec un filet or déposé à la main par les artisans de la manufacture avec un joli décor vert en contour. Juste sublime 😍 Dimensions: longueur 28cms. Largeur 22cms. Hauteur 11cms. Porcelaine. Magnifique soupière bourgeoise de la maison haviland limoges france depuis 1842. Maison de porcelaine synonyme de l'art du luxe à la française. Vrai savoir-faire, les finitions et travaux artistiques de décoration sont réalisés à la main de façon artisanale. Vendu prix neuf 807€/plat. Possibilité de compléter et faire un service, assiettes plates, assiettes creuses, ravier, saucière, plat rond de la même collection de disponible, voir mes autres annonces 🤗.
Ref. : GUYFJ6BK
Dimension

H11 x W22 x D28

Color

white

Materials

ceramics, porcelain and earthenware

Style

vintage
Professionnal client ? Enjoy exclusive benefits on SelencyPro
Pretty oval shaped tureen with its lid, vintage limoges porcelain from haviland. Notice to... [Read more]
Dimension : H11 x W22 x D28
Delivery option(s) available:
This item is negotiable, let's see what price you can get !