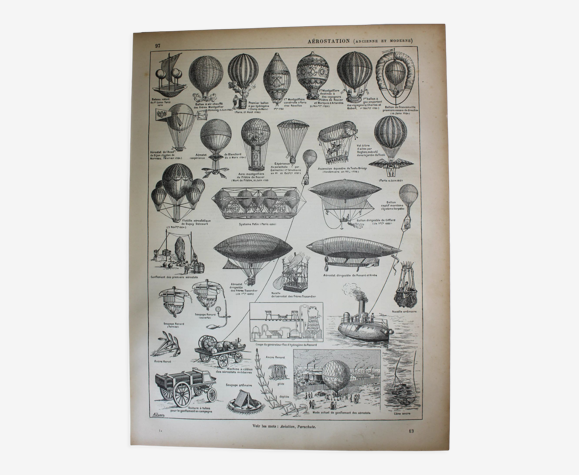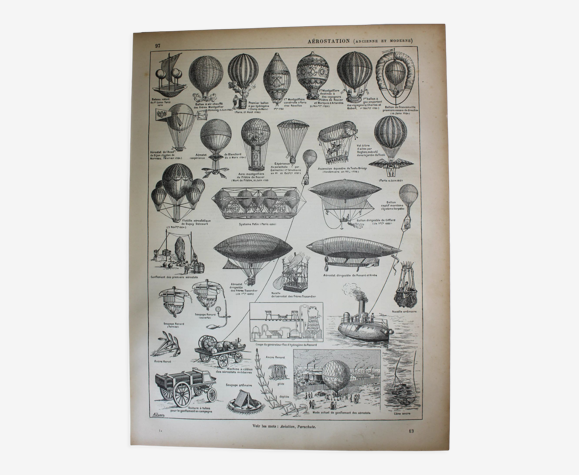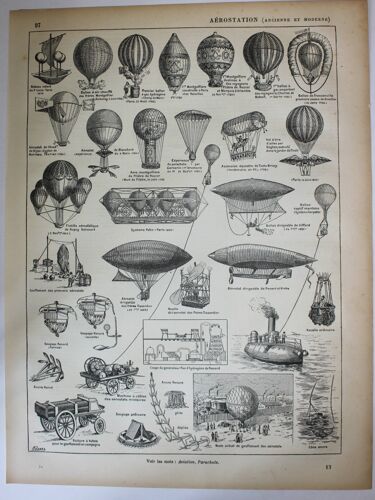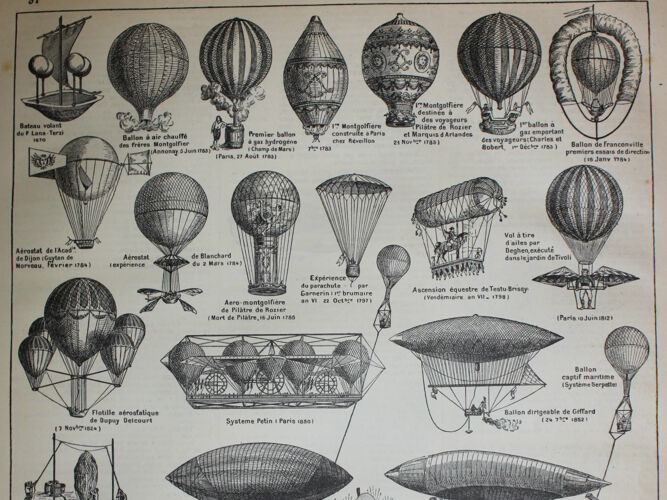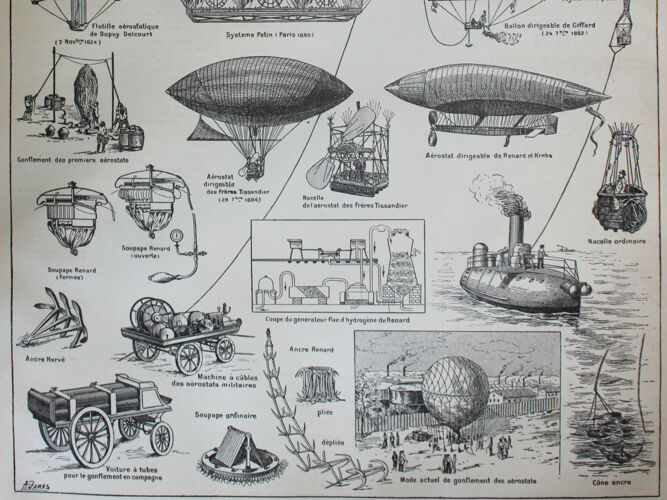 Description
(Show original description)
(Translate)
Engraving of 1898 on the aerostations of the time, hot air balloons, hot air balloon, airships. Original document and not a copy. • size: 31 X 23 cm • signed by a. Jamas, french artist and illustrator. • the condition of the engraving is very good. • on the back of the sheet are other articles from the encyclopedia. From a larousse encyclopedia in french, witness of its time, as much by content as by style. The size of the central frame is about 20 X 26-27cm, ideal to frame (see image with example of framing). The sheet is a high quality wove paper, creamy white, which gives it a vintage cachet. I propose other engravings in the same style on this account. See my profile. For the combined purchase of several engravings please contact me, 10% discount for 3 engravings buy, 20% from 5. The shipment is done by cardboard envelope. Aviation, parachute, helicopter.
Gravure de 1898 sur les aérostations de l'époque, les montgolfières, ballon à air chaud, dirigeables. Document original et pas une copie. • taille: 31 X 23 cm • signée par a. Jamas, artiste et illustrateur français. • l'état de la gravure est très bon. • au dos de la feuille se trouve d'autres articles de l'encyclopédie. Issue d'une encyclopédie larousse en langue française, témoin de son époque, autant par le contenu que par le style. La taille de l'encadré central est d'environ 20 X 26-27cm, idéale à encadrer (voir image avec exemple d'encadrement). La feuille est un papier vélin de haute qualité, blanc crème, ce qui lui donne un cachet vintage. Je propose d'autres gravures dans le même style sur ce compte. Voir mon profil. Pour l'achat combiné de plusieurs gravures veuillez me contacter, 10% de réduction pour 3 gravures acheter, 20% à partir de 5. L'envoi se fait par enveloppe cartonnée. Aviation, parachute, hélicoptère.
Ref. : DU73WJ18
Dimension

H31 x W23

Color

beige

Materials

paper

Style

vintage
Professionnal client ? Enjoy exclusive benefits on SelencyPro
Pro Seller
Engraving of 1898 on the aerostations of the time, hot air balloons, hot air balloon, airships. Original... [Read more]
Dimension : H31 x W23
Delivery option(s) available:
This item is negotiable, let's see what price you can get !