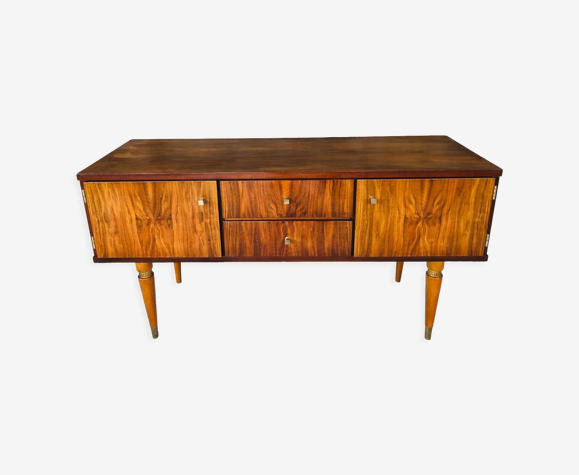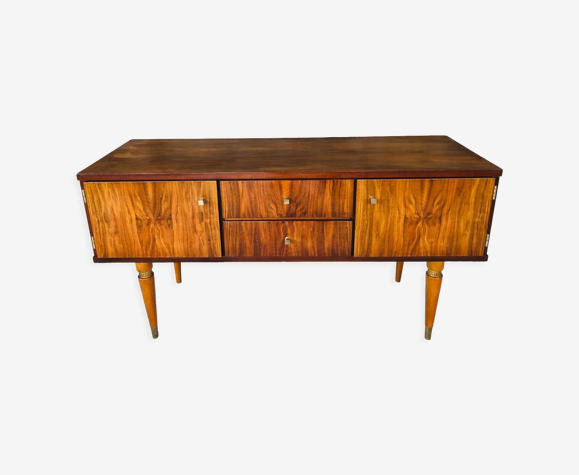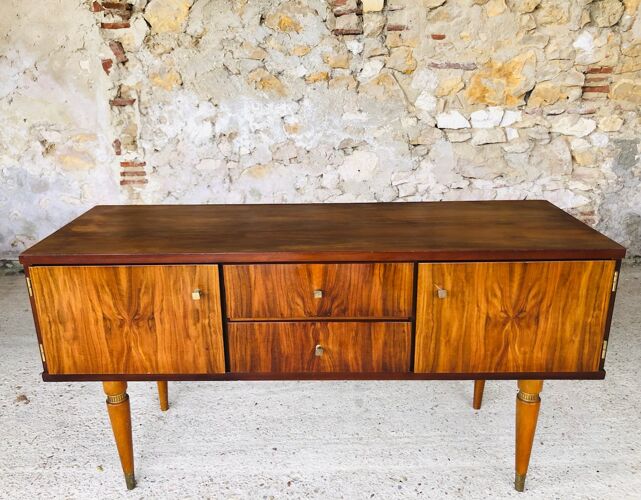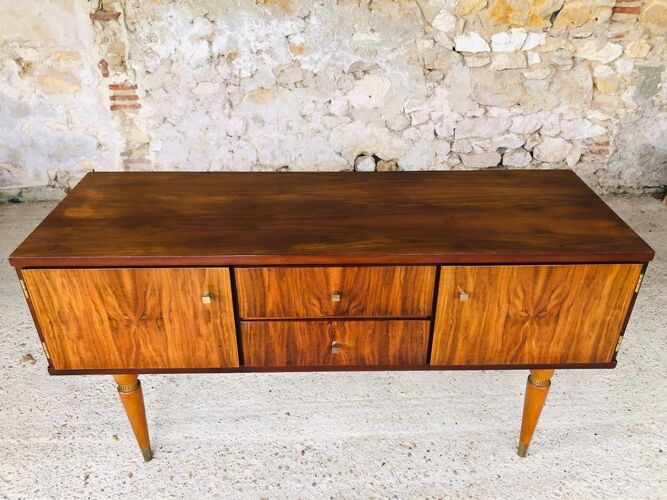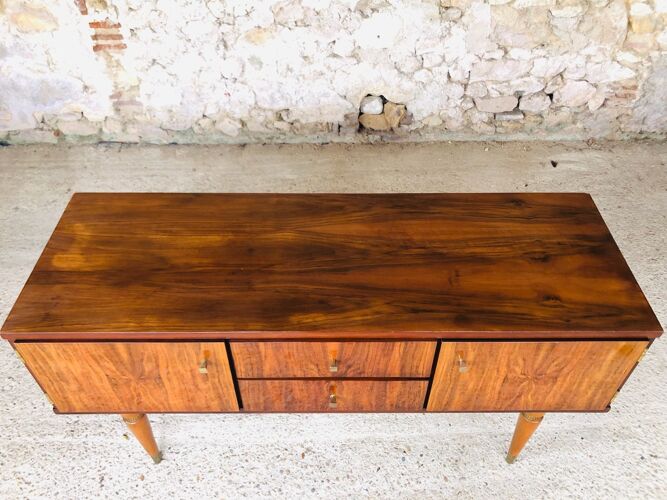 Description
(Show original description)
(Translate)
Vintage low enfilade, from mid-century to the 60s. The room is made of wood with an unusual flamed walnut veneer and a varnished finish on the top and side panels and lacquered on the façade (2 drawers and 2 doors). It rests on spindle feet. The front 2 feet have a brass decoration and original brass-colored foot tips. The room has a good storage capacity including: 2 clean and fully functional drawers (very small resistance on the bottom one, which should disappear with use and time) with original brass-colored pull handles, both drawers measuring l: 33.5 cm X d: 38 cm X 8.5 cm, 2 storage cabinets, opening and closing properly with original brass-colored handles and each measuring: w: 37.5 cm X d: 38 cm X h: 25 cm. The piece is overall in very good original and vintage condition with some old signs and marks of previous use and time on the tray. (see photos and photos with 1 cent coin for perspective), panels, legs, bottom drawer bottom and general structure (see photos.) it is solid and stable and bears its mark. The photos were taken outdoors with natural light to show maximum detail and color change depending on the angle and brightness.
Enfilade basse vintage, du milieu du siècle vers les années 60. La pièce est en bois avec un placage de noyer flammé peu courant et une finition vernie sur le plateau et panneaux latéraux et laquée sur la façade (2 tiroirs et 2 portes). Elle repose sur des pieds fuseaux. Les 2 pieds avant ont un décor en laiton et des embouts de pieds couleur laiton d'origine. La pièce a une bonne capacité de stockage comprenant: 2 tiroirs propres et entièrement fonctionnels (très petite résistance sur celui du bas, qui devrait disparaître avec l'usage et le temps) avec des poignées de tirage couleur laiton d'origine, les deux tiroirs mesurant l: 33, 5 cm X p: 38 cm X 8, 5 cm, 2 armoires de rangement, s'ouvrant et se fermant correctement avec des poignées de couleur laiton d'origine et chacune mesurant: l: 37, 5 cm X p: 38 cm X h: 25 cm. La pièce est dans l'ensemble en très bon état d'origine et vintage avec quelques anciens signes et marques d'utilisation antérieure et de temps sur le plateau. (voir photos et photos avec pièce de 1 cent pour la perspective), les panneaux, les pieds, bas du tiroir inférieur et la structure générale (voir photos.) elle est solide et stable et porte sa marque. Les photos ont été prises en extérieur avec lumière naturelle pour montrer le maximum de détails et de changement de couleur en fonction de l'angle et de la luminosité.
Ref. : BUDTBFHZ
Pro Seller
Vintage low enfilade, from mid-century to the 60s. The room is made of wood with an unusual... [Read more]
Dimension : H62 x W121 x D43
Delivery option(s) available:
This item is negotiable, let's see what price you can get !