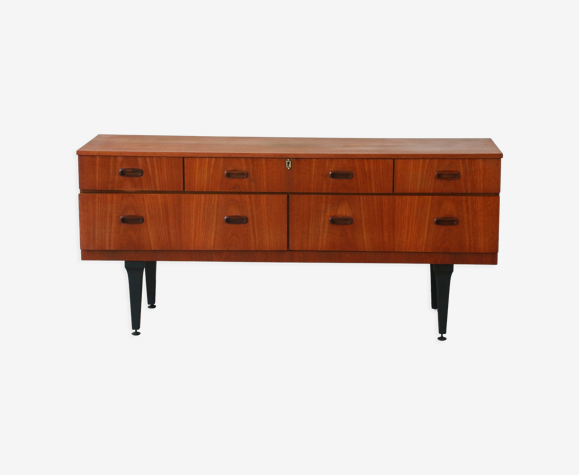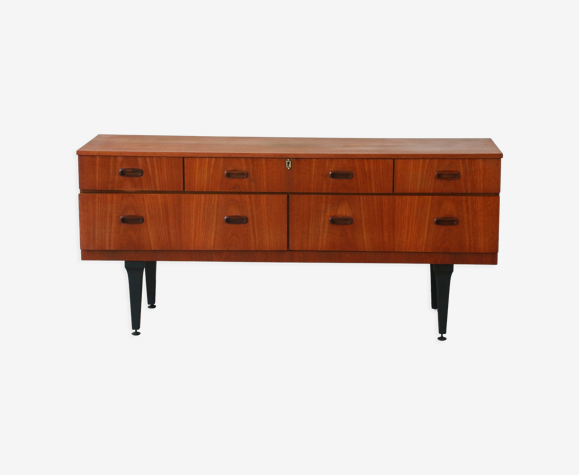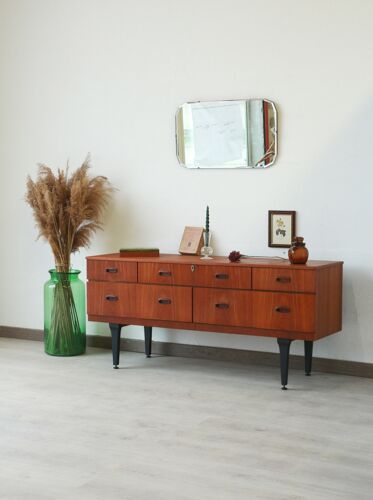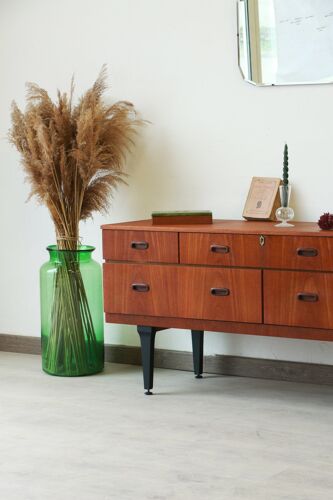 Description
(Show original description)
(Translate)
Small row with drawers - 60s. This small row with drawers has a large storage space consisting of 3 drawers on the upper part including a large central drawer that locks. Two other large drawers make up the lower part of the row and complete the storage space. This very functional enfilade by its size and storage capacity will easily find a place in your interior! Dimensions: w 147 X d 44 X h 66. Materials: teak. Proof of attribution: no attribution mark present. Origin: england. Restoration: it is in very good condition. The wood has been restored and finished with an ecological oil to guarantee its durability and impermeability. Note, a slight darker circle in the center of the tray, it goes almost unnoticed (see photos). Condition: good condition. Weight: about 35 kg.
Petite enfilade à tiroirs - années 60. Cette petite enfilade à tiroirs dispose d'un vaste espace de rangement composée de 3 tiroirs sur la partie supérieur dont un grand tiroir central qui ferme à clés. Deux autres grands tiroirs composent la partie inférieure de l'enfilade et viennent compléter l'espace de rangement. Cette enfilade très fonctionnelle de par sa taille et sa capacité de rangement trouvera facilement une place dans votre intérieur ! Dimensions: l 147 X p 44 X h 66. Matériaux: teck. Preuve d'attribution: pas de marque d'attribution présente. Origine: angleterre. Restauration: elle est en très bon état. Le bois a été restauré et fini avec une huile écologique pour garantir sa durabilité et son imperméabilité. À noter, un léger rond plus sombre au centre du plateau, il passe quasiment inaperçu (voir photos). Etat: bon état. Poids: environ 35 kg.
Ref. : 6GJFRKKR
Pro Seller
Small row with drawers - 60s. This small row with drawers has a large storage space consisting... [Read more]
Dimension : H66 x W147 x D44
Delivery option(s) available:
Unlike new items, second hand items don't lose their value. You can resell this item at the same price.