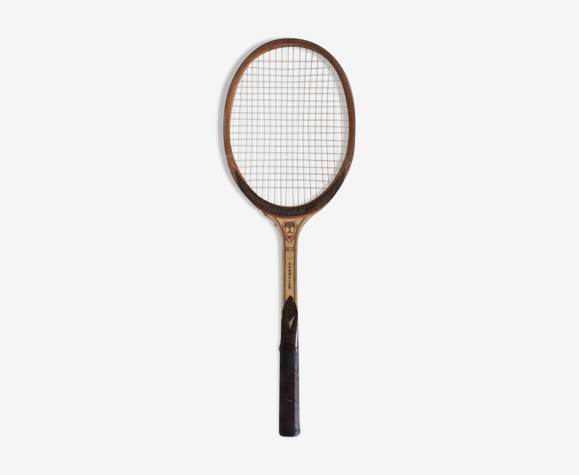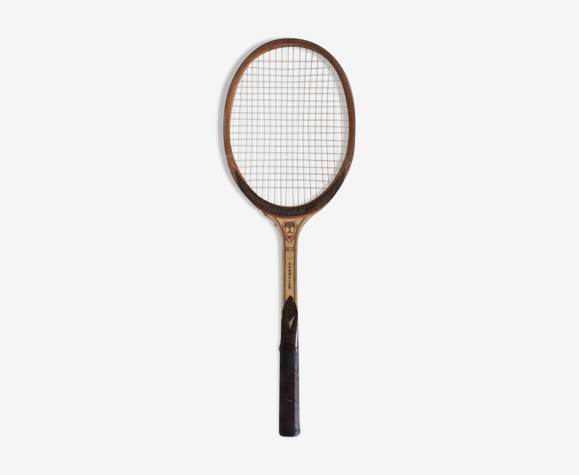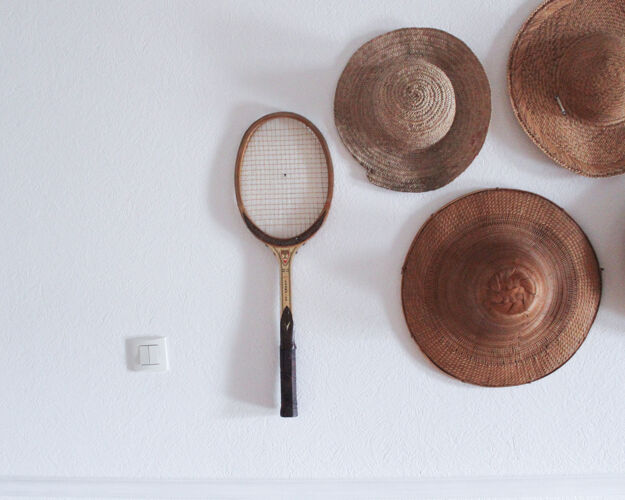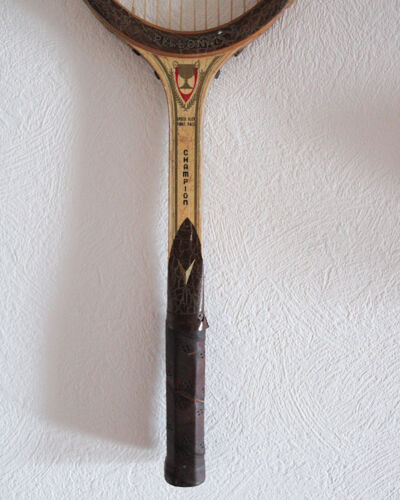 Description
(Show original description)
(Translate)
Old wooden tennis racket of the champion brand, personal speed flex model. In its juice! Note in particular that the upper part is curled (see photos). Despite its flaws, this vintage racket is an original and charming wall decoration! Length: 68.5 cm. In case of delivery via mondial relay, thank you to specify the point of withdrawal of your choice by email at the end of the order. The furniture and objects offered by doux mai have already had one, or even several lives. They therefore have traces of their past use, which is often what gives them so much charm! The descriptions and photos strive to present objectively the condition and particularity of the furniture and objects for sale. Nevertheless, I may have missed a detail. If that were the case, thank you for your indulgence!.
Ancienne raquette de tennis en bois de la marque champion, modèle personal speed flex. Dans son jus ! A noter notamment que la partie haute est gondolée (voir photos). Malgré ses défauts, cette raquette vintage constitue une décoration murale originale et pleine de charme ! Longueur: 68, 5 cm. En cas de livraison via mondial relay, merci de me préciser le point de retrait de votre choix par mail à l'issue de la commande. Les meubles et objets proposés par doux mai ont déjà eu une, voire plusieurs vies. Ils présentent donc des traces de leur utilisation passée, c'est souvent ce qui leur confère tant de charme ! Les descriptifs et photos s'efforcent de présenter de manière objective l'état et la particularité des meubles et objets en vente. Malgré tout, il se peut qu'un détail m'ait échappé. Si tel était le cas, je vous remercie pour votre indulgence !.
Ref. : 44K5X85V
Dimension

H69

Color

wooden

Materials

wood

Style

vintage
Pro Seller
Old wooden tennis racket of the champion brand, personal speed flex model. In its juice! Note... [Read more]
Dimension : H69
Delivery option(s) available:
📱 Enjoy €20 off on the app with the code
APP20
Read more
Valid one time, for all orders over €150 and usable only on the Selency mobile application with the code APP20. Non-cumulative, non-exchangeable, non-refundable offer. Unique code to be entered in the application at the time of payment.