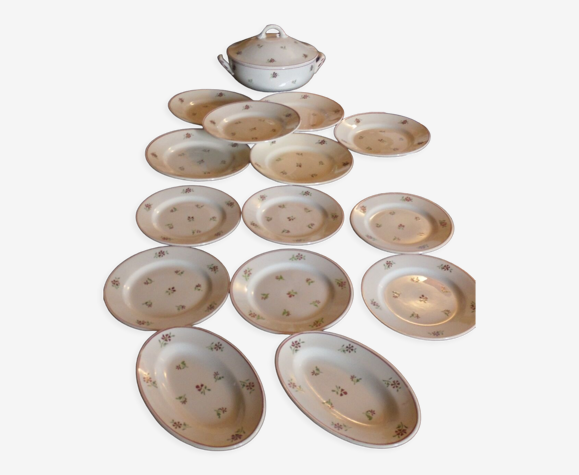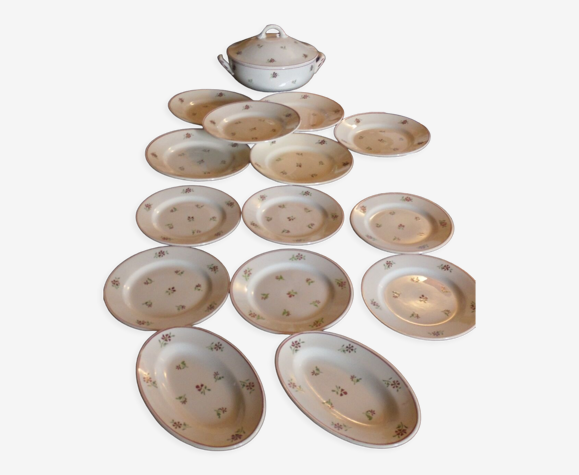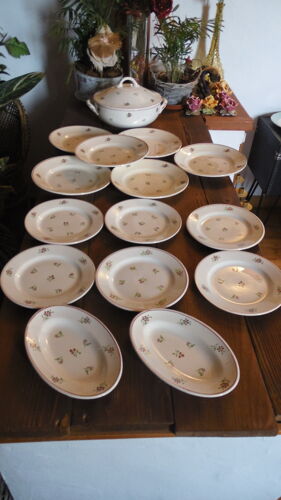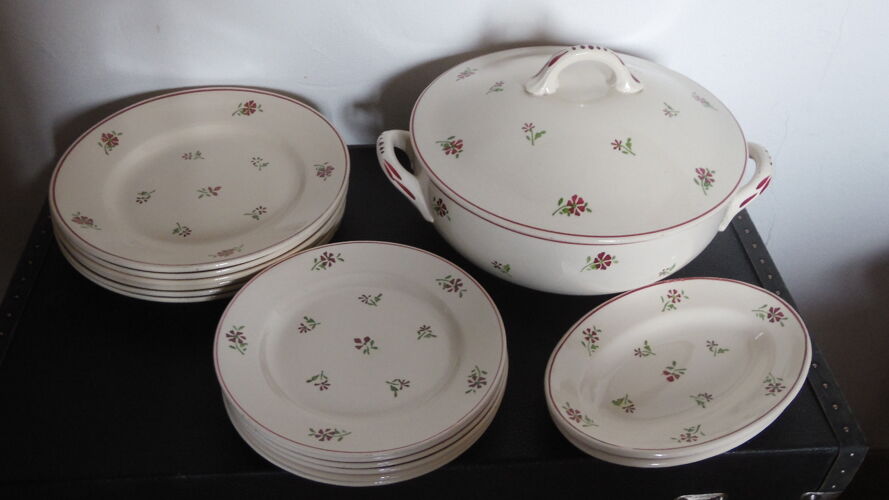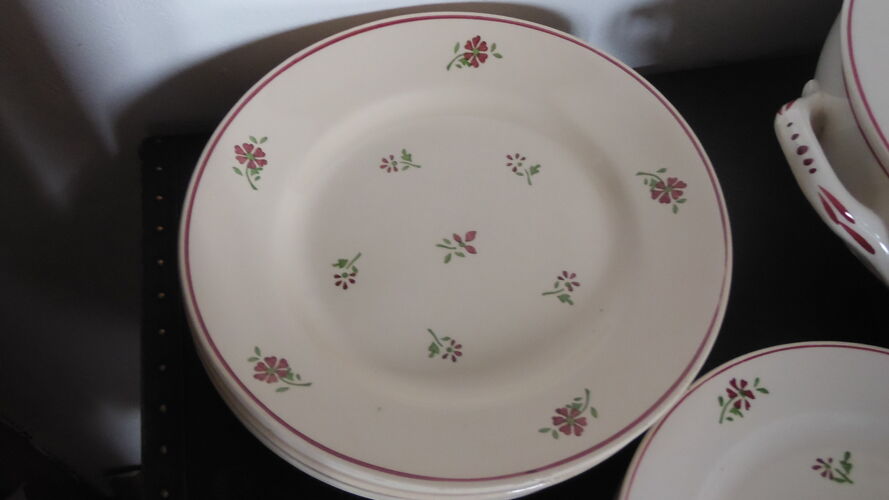 Description
(Show original description)
(Translate)
Set of earthenware tableware from the niderviller factory. Model "madrid" Faience of creamy white color with deco to the stamp small flowers of burgundy color and dark green, burgundy deco, lines a la ain on the lid and handle of the legumier. Good vintage condition. The lot consists of 15 pieces including a legumier or soupiere with its lid, 2 small oval dishes, 6 flat plates and 6 dessert plates. Dimensions: oval flats: length 20.5 cm, width 13.5 cm height 2.5 cm, depth 2 cm, dessert plates: diameter 18.5 cm, height 2 cm, depth 1 cm, flat asssiette diameter 22 cm, height 3 cm, depth 2 cm, legumier height with lid 16 cm, pot only 9.5 cm, diameter 24 cm, width with handles 30 cm, depth 9 cm; total weight 5.4 kg approximately.
Ensemble de vaisselle en faience de la manufacture de niderviller. Modele "madrid" Faience de couleur blanc creme avec deco au tampon petites fleurs de couleur bordeaux et vert foncé, deco bordeaux, traits a la ain sur le couvercle et anse du legumier. Bon etat vintage. Le lot se compose 15 pièces dont un legumier ou soupiere avec son couvercle, 2 petits plats ovales, 6 assiettes plates et 6 assiettes a dessert. Dimensions: plats ovale: longueur 20.5 cm, largeur 13.5 cm hauteur 2.5 cm, profondeur 2 cm, assiettes a dessert: diamètre 18.5 cm, hauteur 2 cm, profondeur 1 cm, asssiette plate diamètre 22 cm, hauteur 3 cm, profondeur 2 cm, legumier hauteur avec couvercle 16 cm, pot seul 9.5 cm, diamètre 24 cm, largeur avec anses 30 cm, profondeur 9 cm; poids total 5.4 kg environ.
Ref. : SYBQ36SG
Dimension

H16 x W30 x D9

Color

white

Materials

ceramics, porcelain and earthenware

Style

vintage
Professionnal client ? Enjoy exclusive benefits on SelencyPro
Pro Seller
Set of earthenware tableware from the niderviller factory. Model "madrid" Faience of creamy... [Read more]
Dimension : H16 x W30 x D9
Delivery option(s) available:
📱 Enjoy €20 off on the app with the code
APP20
Read more
Valid one time, for all orders over €150 and usable only on the Selency mobile application with the code APP20. Non-cumulative, non-exchangeable, non-refundable offer. Unique code to be entered in the application at the time of payment.