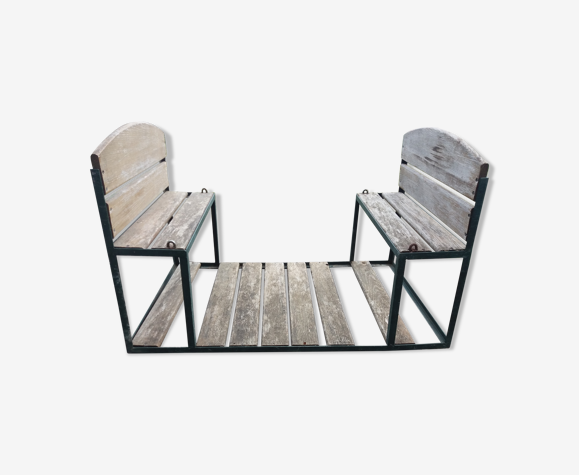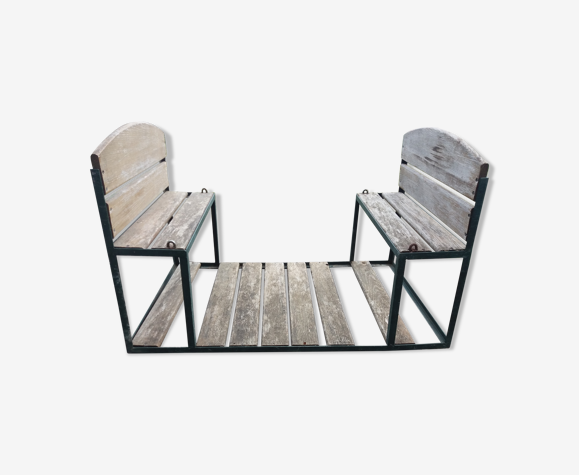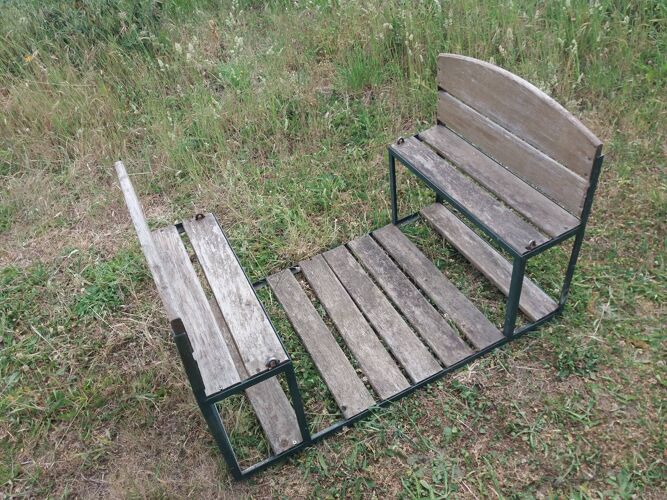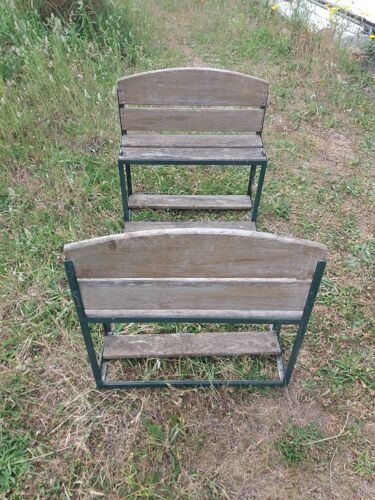 Description
(Show original description)
(Translate)
Pretty and rare swing basket in an industrial style, with its patinated wooden boards on a metal structure painted green. Probably an artisanal fabrication of a dad or grandpa. She is looking for a good handyman who will give her a new life! Hanging from a portico in the garden, just placed to create a "discussion" corner for children, or why not hang on a solid beam in a loft! But before that, it actually needs a restoration: a small crack to weld on the iron pillar of one of the files and some wooden planks of the floor to reattach or even sand, paint, or change if the appearance they have taken, after probably years outside, does not suit you. These boards are indeed still solid, not rotten (oak perhaps to patinate like this without breaking?) but have the very worn appearance that goes with their age. The paint on the metal has also suffered the throes of time: lacks, stains and various marks with a little superficial rust. To hang it, you will have to provide the very strong chains or strings. The 4 fixing "rings" (inverted u) are inserted and welded directly on the metal frame, under the seat board, they still seem very solid to me. It seems to me that it is a basket for 4 children. It measures 100 cm in length, 63 cm in height (at the level of the backrests), and 60 cm in width. It weighs between 20 and 25 kg. It is an estimate because weighed impossible, I manage to wear it alone, but not over a long distance; ).
Jolie et rare nacelle de balançoire dans un style industriel, avec ses planches de bois patiné sur une structure en métal peint en vert. Probablement une fabrication artisanale d'un papa ou papi. Elle cherche un bon bricoleur qui saura lui redonner une nouvelle vie ! Suspendue à un portique dans le jardin, juste posée pour créer un coin « discussion » pour les enfants, ou pourquoi pas accrochée à une poutre solide dans un loft ! Mais avant cela, il lui faut effectivement une restauration : une petite fissure à souder sur le montant en fer d'un des dossiers et quelques planches de bois du plancher à refixer voire à poncer, peindre, ou changer si l'aspect qu'elles ont pris, après surement des années dehors, ne vous convient pas. Ces planches sont en effet encore solides, pas pourries (du chêne peut-être pour se patiner ainsi sans casser?) mais ont l'aspect très usé qui va avec leur âge. La peinture sur le métal a elle aussi subit les affres du temps : manques, taches et marques diverses avec un peu de rouille superficielle. Pour la suspendre, vous devrez prévoir les chaines ou cordes très solides. Les 4 « anneaux » de fixation (en u renversé) sont insérés et soudés directement sur le cadre métallique, sous la planche d'assise, ils me paraissent encore bien solides. Il me semble que c'est une nacelle pour 4 enfants. Elle mesure 100 cm de longueur, 63 cm de hauteur (au niveau des dossiers), et 60 cm de largeur. Elle soit peser entre 20 et 25 kg. C'est une estimation car pesée impossible, j'arrive à la porter toute seule, mais pas sur une longue distance; ).
Ref. : A7946S5S
Dimension

H63 x W100 x D60

Color

green

Materials

metal

Style

industrial
Pro Seller
Pretty and rare swing basket in an industrial style, with its patinated wooden boards on a... [Read more]
Dimension : H63 x W100 x D60
Delivery option(s) available:
This item is negotiable, let's see what price you can get !